Description
Edit
Ivan asked you to help him gather hay from his field.
Quick Walkthrough
Edit
Quest Dialogue
Edit
Ivan the Terrible "So you are here to collect taxes for the king? I sell hay and use hay... Hay is big part of my life... Sadly pests are ruining my hay... Choose wisely what you collect as some of them are pretty rotten." [Y]
"Let it be then!"
On completion
"I've never seen anybody collects hay like this before! That was a splendid job!" [Y]
"Take my part to the king... it is enough."
922 exp
100 bits
Choice - 1 of 3 weapons
Additional Information
Edit
This is one of three side quests that is obtained during and necessary to complete Collect everything. It cannot be obtained otherwise.
Quest log incorrectly calls the farmer 'Boris' instead of Ivan.
When you collect the hay from the fields you can get any number of hay bales (usually 1-4), you will need to collect 30 in total.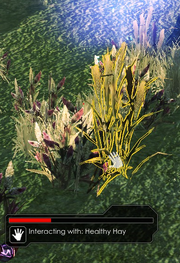 Ad blocker interference detected!
Wikia is a free-to-use site that makes money from advertising. We have a modified experience for viewers using ad blockers

Wikia is not accessible if you've made further modifications. Remove the custom ad blocker rule(s) and the page will load as expected.