Description
Edit
Xetego wants you to plant traps around the village, and promises to follow you then.
Quick Walkthrough
Edit
Set up traps near the village entrances
Quest Dialogue
Edit
Xetego: "I Xetego. I master of hunter of village. You need Xetego help?" [Y]
"Xetego has other tasks. You help Xetego, Xetego helps you."
On completion:
Xetego: "Traps set. Xetego thanks you."
"Xetego will follow. Lead Xetego to Queen when you ready."
Additional Information
Edit
The traps are just glowing markers on the paths outside the village entrances. you just interact with them as usual.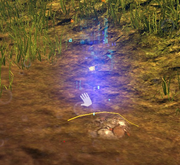 This is one of the mini quests from the Boggart hunters needed to complete The warriors gather main quest. The others are Fight them ! and Where did I leave it?
Ad blocker interference detected!
Wikia is a free-to-use site that makes money from advertising. We have a modified experience for viewers using ad blockers

Wikia is not accessible if you've made further modifications. Remove the custom ad blocker rule(s) and the page will load as expected.