Description
Edit
Changing you skin is not enough. You should visit a trainer and add functions to your simuloid.
Quick Walkthrough
Edit
Find the skill trainer panel and use it
Quest Dialogue
Edit
Simuloid0652 "Now that you look better you should really think about upgrading your code. Head to the skill trainer. He will allow you to unlock more powers. However nothing is free so be prepared to spend some bits.
Additional Information
Edit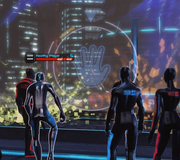 The skill trainer portal looks like a glowing hand inside a ring. It can be found in the Auction House and Soma Forge section of the Lambda Mall Concourse.
Ad blocker interference detected!
Wikia is a free-to-use site that makes money from advertising. We have a modified experience for viewers using ad blockers

Wikia is not accessible if you've made further modifications. Remove the custom ad blocker rule(s) and the page will load as expected.