Description
Edit
Laygolahz15 has opened the door, however some girl is blocking the way to our escape. Laygolahz15 has asked you to try and talk to her.
Quick Walkthrough
Edit
Talk to the girl at the door
Quest Dialogue
Edit
Laygolahz15 "Ok the door is open. But... I really don't have a clue who that girl is. How about you go talk to her?
Renie "I see my timing couldn't be better. For some reason I knew Orlando wouldn't send me to a peaceful place."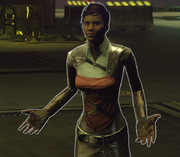 Ad blocker interference detected!
Wikia is a free-to-use site that makes money from advertising. We have a modified experience for viewers using ad blockers

Wikia is not accessible if you've made further modifications. Remove the custom ad blocker rule(s) and the page will load as expected.