Description
Edit
At the top of Blue Bell you found a giant bell. In there you've found a portal looking similar to the one you found in Stone Cross... Fredericks is convinced that this one is a lot older than the one at Stone Cross and you should investigate it.
Quick Walkthrough
Edit
Investigate the portal
Kill the Fire beast
Quest Dialogue
Edit
Fredericks "Remember that portal near the barbarian camp? I found another one. It seems that the bugged area... Well or even the entire simulation is luring them."
"We need to take care of it or the logs from the area will be devoured. There is no other way.
On Completion
"What? A fire beast? how is that even... I don't get it. It has no way of traveling through simulations... Unless someone dragged it through. I think Orlando was on to something a lot bigger than we thought."
2010 exp
123 bits
Head wear
Additional Information
Edit
Ring the bell at the portal, a Fire Beast will be summoned, prepare for a fight.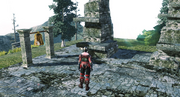 Ad blocker interference detected!
Wikia is a free-to-use site that makes money from advertising. We have a modified experience for viewers using ad blockers

Wikia is not accessible if you've made further modifications. Remove the custom ad blocker rule(s) and the page will load as expected.