Description
Edit
Inside the SOMALab you can plant SOMA seeds. They will then grow into SOMA that you can use for creating simulations in Lambda Mall. The assistant asked you to do that now with the seed she gave you.
Quick Walkthrough
Edit
Plant the black SOMA seed in the SOMALab. Use one of the SOMA consoles.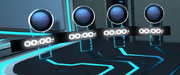 Quest Dialogue
Edit
Personal Assistant "The third and last part of the tutorial will teach you how to create SOMA in your USpace. Head to the room you just attached and use a SOMA seed on the inhibitor there.
Personal Assistant "Good. The SOMALab room can be used to create SOMA from all colors. Keep in mind however that if the SOMA seed is not collected in time it will dissolve. You can plant seeds that collected or buy them from the shop by using the SOMA seed terminal.
90 exp
24 bits
Class appropriate armor - pants
Additional Information
Edit
It is very important that you do not do too much with the USpace before instructed to do so by your assistant. The area is very user friendly, and you can figure out how to use the areas inside on your own. This will make it so you cannot progress through the quest line. Follow the assistants directions and finish the four quests before interacting with the various functions of your USpace.
Do not buy SOMA seeds and plant them until you have done so with the seed given to you in the previous quest. if you fill the consoles with purchased seeds you won't be able to use the seed from the previous quest.
Ad blocker interference detected!
Wikia is a free-to-use site that makes money from advertising. We have a modified experience for viewers using ad blockers

Wikia is not accessible if you've made further modifications. Remove the custom ad blocker rule(s) and the page will load as expected.