Description
Edit
Kurogane, the metal ambassador asked you to find the gift he intended for the Celestial Dragon, it was in the docks when he arrived.
Quick Walkthrough
Edit
Quest Dialogue
Edit
Kurogane: "I am Kurogane, the metal ambassador. I might have something for you to do. I am willing to pay for it."
"The land where I come from is known for its riches and valuable materials. My people managed to create something very unique for the Celestial Dragon."
"Of course there are issues. When I was being greeted by the Water Master I left my entire cargo in the main square of the village. When I returned, my gift was no longer there."
"I do not want to make this incident known to the leaders of this village due to its very crucial nature. Accusing someone of thievery could be damaging for our diplomatic actions."
"Thus I required someone form outside to deal with the matter and now you came along."
"Could I ask you to go around the village and find my gift? It should be in a small box."
On Completion:
Kurogane: "What? The crate was empty?"
"I do not wish to accuse anyone. I think I require more help."
Additional Information
Edit
The 'small box' mentioned by Kurogane is actually a large crate.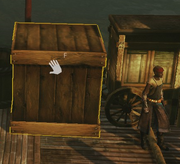 Ad blocker interference detected!
Wikia is a free-to-use site that makes money from advertising. We have a modified experience for viewers using ad blockers

Wikia is not accessible if you've made further modifications. Remove the custom ad blocker rule(s) and the page will load as expected.