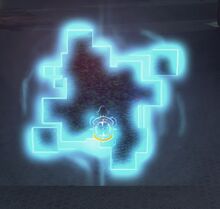 After the tutorial, Sellars will meet you in your personal Uspace and deposit a recall device called a Uspace Beacon into the credits tab of your inventory. This opens a portal whch you must then interact with (default F key) in order to be transported back to your Uspace. This device can be activated from the skills bar or right clicked on in the inventory.
The image shows the portal open around the character that activated the beacon. At this stage, you need to interact with it in the normal way to be transported home.
For players who created a character and enabled their Uspace before the beacon was implemented, Sellars will wait in their Uspace to give them the device when they next enter.
Ad blocker interference detected!
Wikia is a free-to-use site that makes money from advertising. We have a modified experience for viewers using ad blockers

Wikia is not accessible if you've made further modifications. Remove the custom ad blocker rule(s) and the page will load as expected.