Description
Edit
Hann asked you to help him gather wool from his sheep.
Quick Walkthrough
Edit
Collect wool [0/5]
Collect sheep wool [0/5]
Quest Dialogue
Edit
Hann the Shepherd "So you are here to collect wool for the king." [Y]
"Let it be then!"
On completion
"That's a good, good job... I do wish we could chat longer, but... Oh well, bye."
"What you need anything else... Go away!"
Additional Information
Edit
This is one of three side quests that is obtained during and necessary to complete Collect everything. It cannot be obtained otherwise.
Quest log incorrectly calls the lumberjack 'Syergiey' instead of Hann.
You must collect wool from the sheep, but you cannot collect from the three in front of Hann. The sheep you can collect from have the blue particle effect, some are moving and hard to collect from, while others are stationary and easier. When you collect the wool you complete both objectives, it's probably an oversight that there are two objectives for this quest.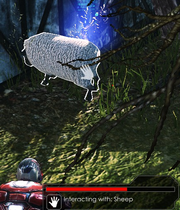 Ad blocker interference detected!
Wikia is a free-to-use site that makes money from advertising. We have a modified experience for viewers using ad blockers

Wikia is not accessible if you've made further modifications. Remove the custom ad blocker rule(s) and the page will load as expected.